SEARCH ENGINE OPTIMIZATION SERVICES
We offer search engine registration and optimization packages as well as all-inclusive packages combining search engine registration and optimization with domain registration, website hosting and web design.
Learn More
HOSTING AND DESIGN SERVICES
Standard Hosting
400 MB Storage Space
4000 MB/Mo.Data Transfer
1 Free Domain Name Registration
20 POP3 E-mail Accounts*/Unlimited E-mail Support
1 Hr. Free Website Tech. Support/Month
FTP/FrontPage Access
Password Protection
Support for PHP/CGI
1 MySQL Database
Order Now!
Deluxe Hosting
800 MB Storage Space
8000 MB/Mo.Data Transfer
2 Free Domain Name Registration
Unlimited POP3 E-mail Accounts*/Unlimited E-mail Support
3 Hr. Free Website Tech. Support/Month
FTP/FrontPage Access
Password Protection
Support for PHP/CGI
5 MySQL Databases
Order Now!
Responsive Website Design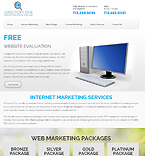 Using responsive web design, we construct a compelling online experience that is engaging and aesthetically pleasing on every device.
Order now!